To access archived content you can either search for the content by name or create a filter for archived content. To create a filter for archived content:
On the content list, select the filter icon and set the property as "published" then "is" "archived".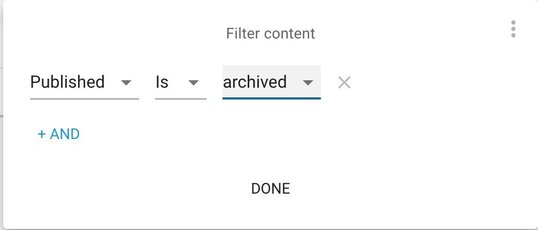 Now you can save this filter as a saved view and reference it when needed
There are two workarounds available. First, we'd recommend using our proxy previews setting (go to your advanced settings from builder.io/account/organization click advanced settings and turn on the proxy previews option) which will proxy your site in a way that allows iframe access. This works for most sites, but if it doesn't for yours, try turning it back off and try our chrome extension. Just note that all users in your organization should download it as well.
If you're still having trouble, reach out to us at help@builder.io
Getting started
---
Looking to hire a third party to help with your project?
Submit a project request and our partnerships team will reach out to connect you with an Expert from our partner ecosystem.
Was this article helpful?