Roles and Permissions in a Space
You can specify roles and permissions at two levels in Builder:
For an Organization: Organizations have their own roles. For more information, see Managing Your Organization.
For a Space: In a Space you can set specific roles and permissions, which is the focus of this document.
This document covers:
Adding users to a Space
To add a new user to a Space:
Make sure an Organization Admin has already added the user to the parent Organization. For more information, see the Managing users section of Managing Your Organization.
Go to the Space Account Settings.
Scroll down to the Users section and click the Add New User button.
Enter the user's name, email, and select a role.
Click the Create button.
Make sure the user follows the instructions in the email from Builder to complete their account setup.
Roles and permissions by Space
Builder provides five built-in roles to grant appropriate access to team members. Additionally, Enterprise plans can define custom roles for granular controls.
The roles in Builder are as follows:
Contributor

Contributors cannot drag and drop to add, remove, or move blocks. They can only edit the options of blocks, such as the text and images, but not the layouts of them.
Contributor permissions are best for users you only want to modify basic page content like text or images. They cannot create or change layouts, add or remove blocks, or move anything around.
The screenshot below shows the Visual Editor as it appears for a contributor. The available tabs only include the Options tab and the comments tab.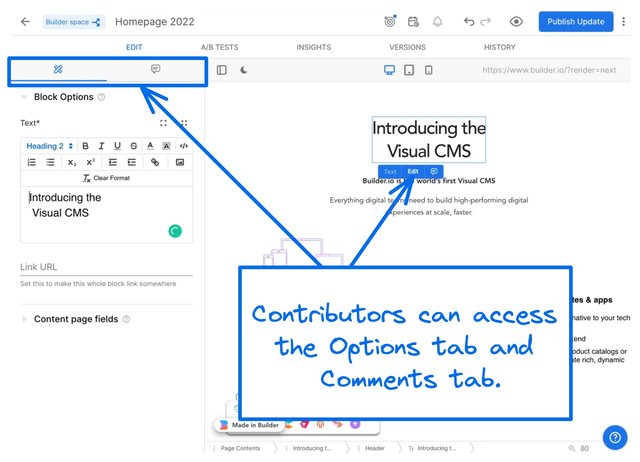 Editor
Editors can create and edit content—such as text, images, and other blocks—but can't edit designs or styling.
Editor permissions are ideal for users who need to create content using design systems. They can create and edit pages using pre-defined components (by developers) and templates and symbols (by designers). Editors can edit content by adding or changing text, uploading assets, or adding and rearranging page contents but have no access to styling or code.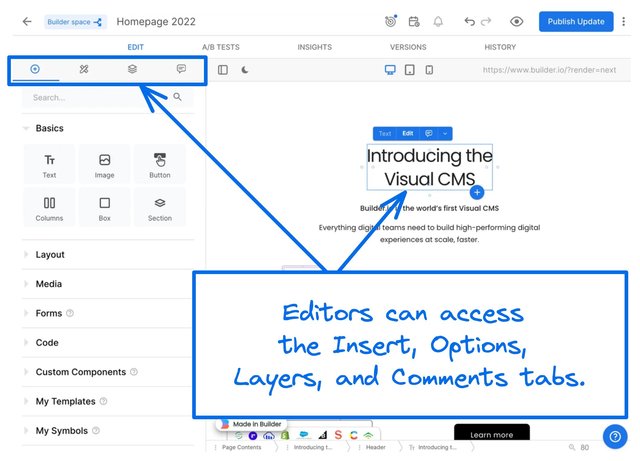 Designer
Designers can create and edit content and designs.
Designers have access to full style controls but don't have access to code, such as JSON view. We recommend that your designers save content as templates and symbols for other team members to use. Note: some legacy accounts have a "Creator" role which is synonymous with this Designer role.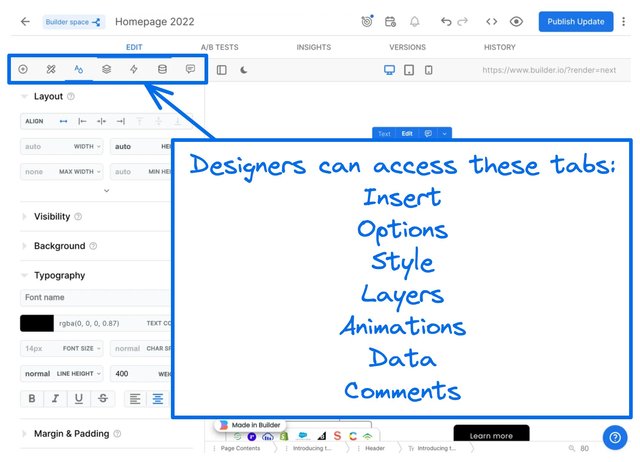 Developer
Developers can create and edit content, designs, code, and models.
Developers have access to design controls just like designers, and can use code within Builder's visual editor as well, to connect to custom data sources or add custom interactive behavior to your Builder content.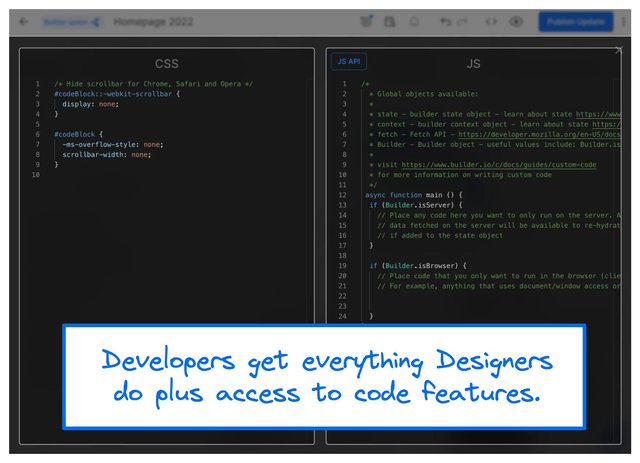 Admin
Admins can do everything, including manage users and payment.
Admins have access to all available options and controls. They can do anything in the Visual Editor as well as manage users and billing.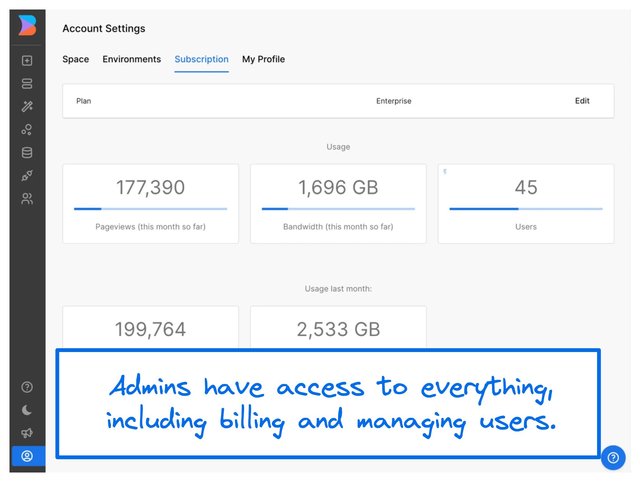 Custom roles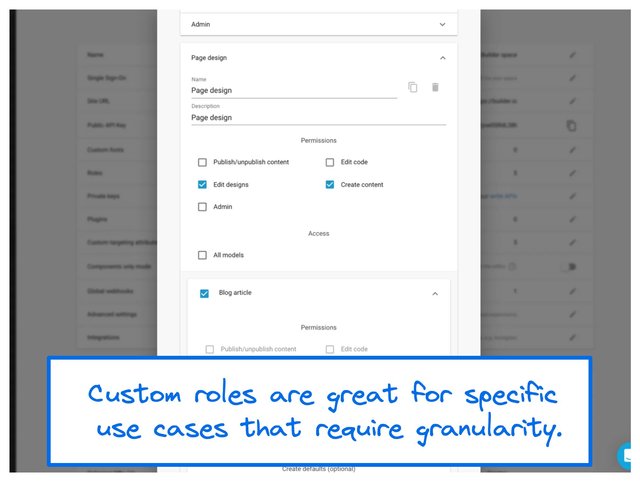 ---
Looking to hire a 3rd party to help with your project?
Submit a project request and our partnerships team will reach out to connect you with an Expert from our partner ecosystem.
Was this article helpful?