There are two main steps to setting up SSO with Builder and Microsoft Entra ID:
Configuring Entra by creating an application integration.
Configuring Builder by adding an Entra SAML Config.
Tip: Microsoft has recently renamed Azure AD to Microsoft Entra ID. As of September 25, 2023, some of the features related to Entra ID are still named Azure.
Navigate to the Microsoft Entra (formerly Azure) Portal.
Go to the Microsoft Entra, where and select Enterprise Applications.
Click on New Application.
Click on Create your own application. A dialogue opens where you can enter the name of your application and keep the default selected option Integrate any other application you don't find in the gallery (Non-gallery) as below: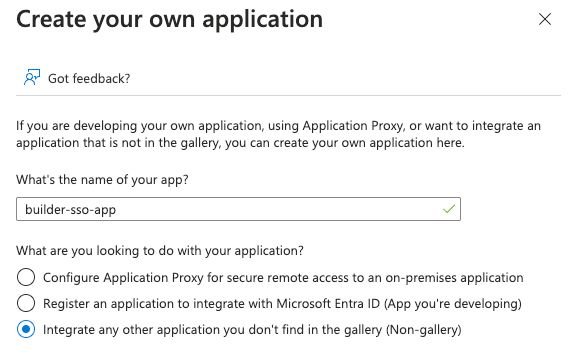 After you create your application:
Go to Single sign-on and select SAML as the single sign-on method.
Edit the Basic SAML Configuration by setting these values: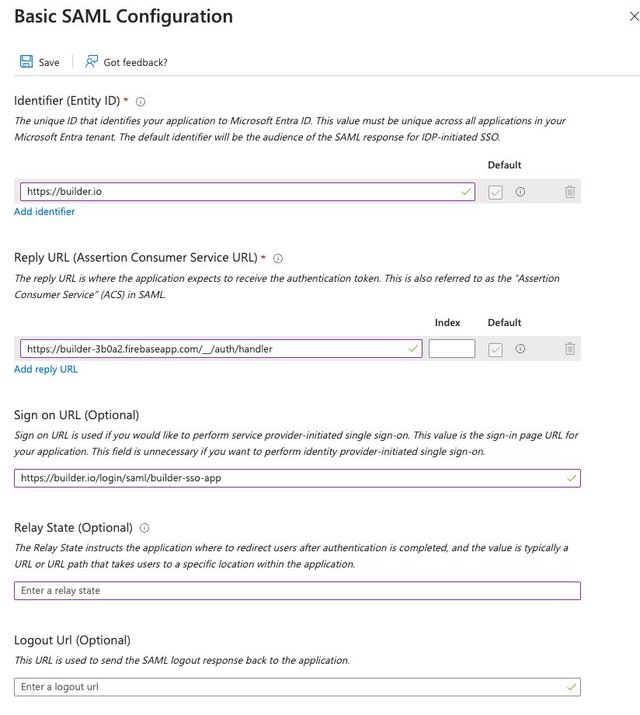 After you save, the Basic SAML Configuration should include:
Identifier (Entity ID): https://builder.io
Reply URL: https://builder-3b0a2.firebaseapp.com/_/auth/handler
Sign on URL: https://builder.io/login/saml/builder-sso-saml
Relay State: Optional
LogoutURL: Optional
The screenshot below shows these values in context:

Next, download the certificate from SAML Certificates as below: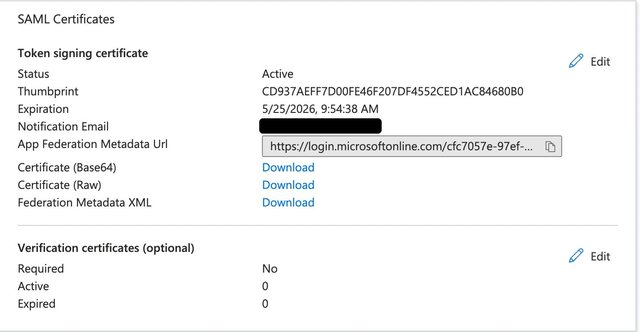 With SSO enabled on your Builder account and an app, you can add your SSO details:
Go back to your Builder Organization page.
Click on Single Sign-on.
From your Entra Application single sign-on configuration, enter the SAML information from your Entra account (Login URL, Azure AD Identifier, Logout URL, and the certificate).
When choosing an SSO Name be aware that this is a unique name across all Organizations in Builder, and it will be used to access your unique SSO login page; for example, https://builder.io/login/company-name. Choose something that is easy to bookmark or remember for you and your colleagues.

The video below, by one of our excellent engineers, goes through the process of setting up SSO with Entra (formerly Azure) and Builder, from beginning to end. (It wasn't initially made for the docs, but it is so perfect that we just had to add it!)
---
Looking to hire a third party to help with your project?
Submit a project request and our partnerships team will reach out to connect you with an Expert from our partner ecosystem.
Was this article helpful?