In Builder, roles are used to grant permissions to users to access and perform certain features and tasks. Roles are assigned when a user is invited to to an organization by an Admin. The four organizational roles are:
Admin - can manage everything including billing and users. Every organization must have at least one admin.
Developer - Can create and edit content and designs, as well as edit code, models, and advanced configuration
Designer - can create and edit content, designs, and styling
Editor - can edit content (e.g. text, images) but not designs and styling
To edit an existing users role, navigate to the organization tab in account settings. Select the user you'd like to edit, change the role, and update.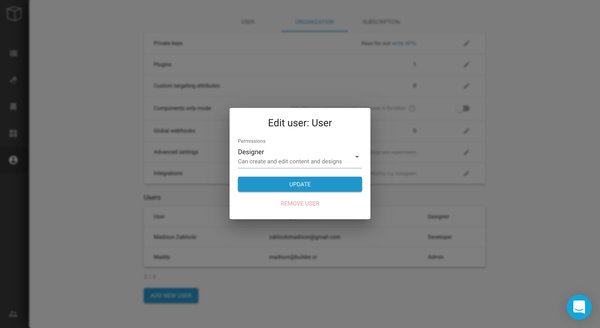 👉Custom roles, which allow you to create customized user permissions and work flows, are only available to our Enterprise plans

Was this article helpful?