Setting up E-commerce Plugins
In order to set up an e-commerce plugin, you can enable the plugin from the Integrations page, then add any required API keys and tokens from your e-commerce platform to the plugin's settings.
Enable your e-commerce plugin
You can start by finding your team's e-commerce platform from our list of supported integrations on the Integrations page.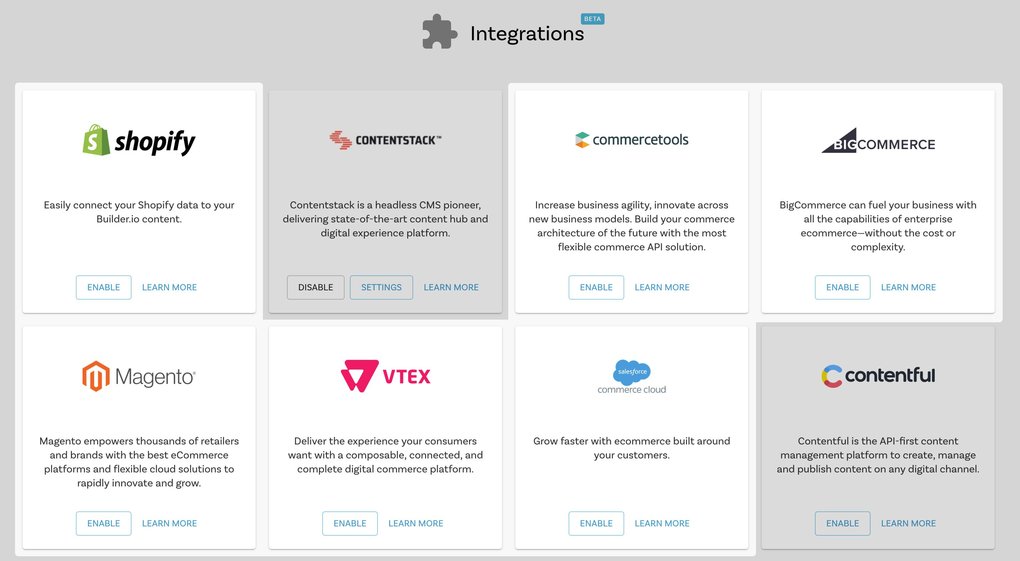 Select Enable to install the plugin in your Builder space.
Configure your e-commerce plugin
You can configure your e-commerce plugin after installing it to enable the integration.
Configuration generally involves two steps:
Enable developer or API access on your e-commerce platform with the correct permissions.
Add the appropriate API keys or tokens from your e-commerce platform to the e-commerce plugin's configuration.
Knowing specifically which API keys or tokens your plugin requires help you when enabling developer/API access on your e-commerce platform and setting the correct permissions. You can see this information by selecting Settings for your plugin on the Integrations page.
The following example shows the settings for the Shopify e-commerce plugin.
The plugin requires an API key, a Storefront access token, an API password, and the store's domain, all of which you can find in the Shopify dashboard's Manage private apps section after you enable private apps for your store.
The exact steps and requirements for configuring e-commerce platforms vary from platform to platform. Refer to your platform's documentation for more information on how to acquire the API keys/tokens required by your plugin.
Using a starter kit
You can use a starter kit as an alternative to installing your e-commerce plugin and integrating it with your codebase.
Starter kits create a new Builder space with pre-configured models and content as well as a codebase that's already been integrated with your preferred plugin and platform. You can add your own e-commerce platform API credentials to the plugin settings to connect the content to your store.
Using a starter kit can be a convenient way to get started if you don't have a pre-existing codebase, or to play with the plugin without affecting your other spaces. You can also refer to the starter kit's code while reading through the e-commerce plugin documentation as a reference implementation while creating your own.
The following starter kits are currently available:
Next steps
Once you've finished setting it up, check out the following articles on how to use your e-commerce plugin:
The features described in the articles above make use of custom types introduced by e-commerce plugins. You can refer to E-commerce custom types for in-depth information on the data structure and integration details for these types.

Was this article helpful?