Builder Apps and Embedding
Select enterprise customers and partners can deeply customize the editor interface, enabling completely custom user flows, white labeling, and embedding within other dashboards
👉 The contents below require custom partnerships agreements
Apps
Apps allow you to completely skin Builder. You can replace the default user flows with your own entirely custom ones, and customize the editor deeply. Authentication is seamless via Single Sign-On (OAuth or SAML)
In the below example, Builder is white labeled completely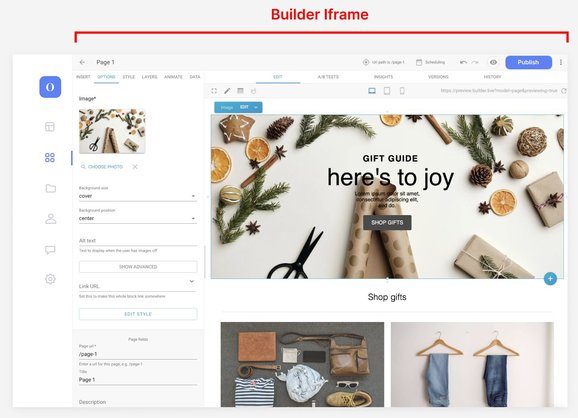 Integration Partners
Partners can integrate Builder into their own applications and tools as an optional add-on for their users
Plugins
Embedding
This is an enterprise add-on, please talk with your account manager to get this set up.
You can embed your custom Builder space in your dashboard using the builder-app custom element:
This will load up the space you specify.
It requires:
getting an embed token in each session to verify ability of embedding the space under a specific domain, for e.g pass the current domain to the following function:
Configuring an SSO provider on the embedded space programmatically prior to embedding, for example when creating the space
For the full code please check this example on our github repository.

---
Need Expert help?
Reach out to us, and we will match you with a Builder expert.
Was this article helpful?