Importing existing Shopify pages
This guide will walk through how to import your existing Shopify pages into Builder Theme Studio.
👉This feature is in beta. You can view which page templates are available for import here
Theme Pages and Elements
To import an existing Shopify page template (e.g. product pages, collection pages) into Builder Theme Studio, navigate to the Studio tab, select the theme page you want to import, and then click +New Version
In the modal, select Import with Dropzones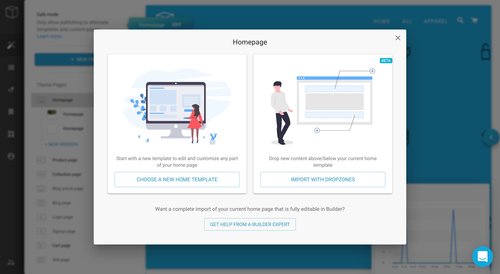 Your current template will be pulled into Builder Theme Studio as a Shopify section and you can add new content above or below your Shopify section such as product carousels, text, and more. This section above and below your Shopify section is called a Dropzone.
Custom pages
To import a page that is not a part of your existing theme, select +New Page under Custom pages in the left sidebar. Set a page name and URL and then you can select Import a page from your store. A dropdown will appear with the pages from your store. Choose the page you want to import into the Builder Theme Studio.
Theme Studio for developers

Was this article helpful?