When you're creating lots of content in Builder, it's useful to tag different types of content (e.g. marketing pages, blog posts, ad campaigns, etc) to create custom views as a way of organizing content types. In this example, we'll show you how to tag your marketing pages and create a custom view.
Since we want to tag pages in this example, head to your Models tab, select the Page model and select +New field.
Create a field with the name tag and select the type tags.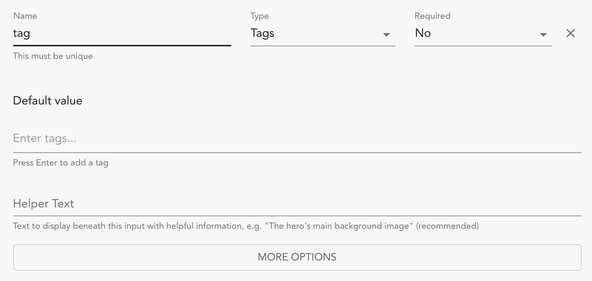 Now, when you go into any page content entry, your custom fields will show up under the Options tab and you can add a tag to your page. For example, I want to organize all of my marketing pages, so I added a tag named marketing.
👉Tip: If a page is already published, you'll need to publish again after adding the tag so it will show up in our custom view (draft pages will show up automatically)
Head back to your list of content entries and click the three lines in the top right corner to create a filter.
Select +Filter and in the dropdown menu that appears, choose Tag. Next, create a filter for Tag contains marketing.
Click Done and then Save View in the top right corner. This will open a pop-up where you can name your view, such as "marketing pages," and choose whether you want this view to be available organization-wide or only for your user account.
Once you save your view, it will appear on the left side of your content entries page and selecting the view will populate all your pages with the marketing tag.
---
Looking to hire a third party to help with your project?
Submit a project request and our partnerships team will reach out to connect you with an Expert from our partner ecosystem.
Was this article helpful?