Connecting Builder forms to Airtable with Zapier
Once you've logged into your Zapier account, select the "create a zap" button in the top left corner.
The first step is setting your trigger. A trigger is the event that starts a Zap (Zapier will monitor for this event). The trigger we will be using is "Webhooks by Zapier". Webhooks are automated messages sent between apps (includes information about new items, e.g. email addresses from sign-up forms).
Set the event to "Catch Hook". The Catch Hook event will wait for a new POST, PUT, or GET to a Zapier URL.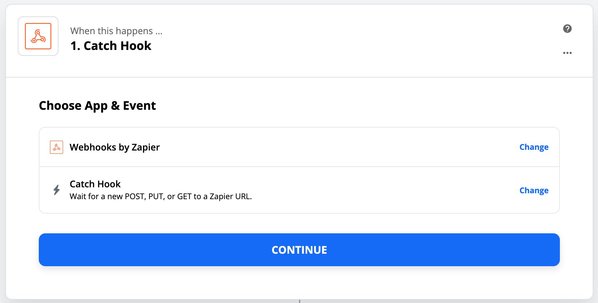 Connecting your Builder form to Zapier
Now, Zapier will provide you with a custom webhook URL. Copy this URL and navigate to your Builder form. Select the form layer and navigate to the options tab. Change "send form submission" from "email" to "custom". Paste your custom webhook URL in the "Action" input.
Next, you can test your trigger. Preview your Builder form page, fill out the form, and submit. Now, click the "test your trigger" button in Zapier. This will show if your test form submission request was found.
In step two, choose Airtable as your event for your form submissions to be sent to. Select "create record" so when a user submits the form, a new record with their information will be added to your Airtable base.
Next, connect to your Airtable account and select the base and table you want the form submissions to go to. These are the required steps, but you can also add name, email, attachments, and status values (these can be the value from the test submission step earlier in the Zap).
Lastly, test and send data to Airtable by selecting "test and review". This will ensure the form data is properly being sent from your Builder form to your Airtable base.
Once your test data is successfully sent, you can turn on your Zap and your form will be functional.
👉Tip: If you run into any issues, Zapier has an "errors" section located in the right side bar. This can help you troubleshoot any errors that may occur.

Was this article helpful?